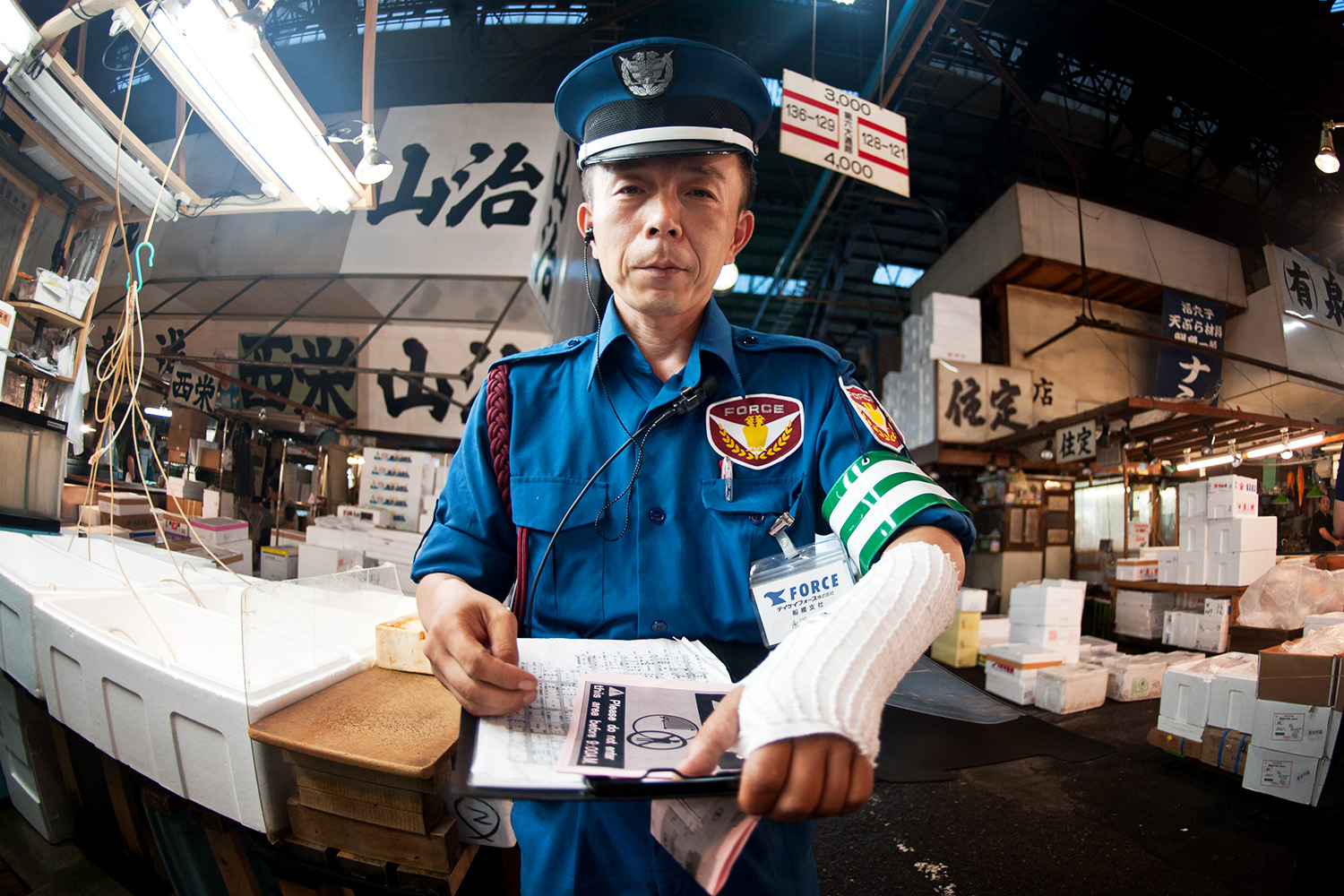 Hide And Seek At The Tsukiji Fish Market In Tokyo (Japan, 2013)
It was late evening when I touched ground at Narita international airport in Tokyo and I was excited to have arrived after my six hour flight out of Bangkok, Thailand. Going through immigration without any problems I went straight to pick up my luggage which was mostly gear besides a few clothing items. I didn't need much more for the forty-one hours I was about to spend here. The german in me didn't want to waste much time and so the few minutes it took for the luggage carousel to spit out my suitcase seemed like a little eternity. Often I am lucky enough to work with clients who are kind enough to provide a pick up driver for me, which additionally stresses me out in the back of my head because I know the hours they put in sometimes, specially when picking up a whole production team, including competing athletes. It goes without saying that a regular delayed flight schedule contributes to very little sleep for these everyday heroes just to make peoples life like mine more comfortable and so I always tried to speed things up a bit so he/she wouldn't need to wait for to long. To be honest, it took me a long time to get used to these kind of services but at the end of the day I worked hard to get here and some of these airport pick ups were so adventurous in itself that I actually looked forward to this part of the journey each time but those are different stories for a different day. Finally my luggage appeared and I was ready to get out of here.
Unfortunately, having tattoos and a beard is not the best disguise to avoid any kind of officer or control at airports in general and to additionally be tall and white in Asia is not an advantage either. It might sound a little racist but that's just the way it is and so you quickly stand out and can find yourself getting checked at customs, no matter what. Now why would I tell you about me getting stopped at customs? It probably happens all the time you might think, specially traveling with photography gear, and you are one hundred percent right. I got nothing to hide but you've probably heard of the humorous statement "With friends like you, who needs enemies?" and if you are lucky, you probably even have one of those friends in your circle. I really hope you do, it's good fun, at least most of the time.
I opened my bag and suitcase for the officers to have a quick look and emptied my pocket. Phone, headphones, bubblegum and my tobacco bag. By the time I was done answering some quick routine questions about my stay in Tokyo the officer zipped up my suitcase and gave his colleague a thumbs up. It seemed like I was ready to go. My friend and I grabbed a few drinks in Bangkok the night before my departure yesterday to catch up since we haven't met for years, it was one of those classic "like back in the day" re unions. Little did I know about him hiding a joint in my tobacco bag, when the officer reached out his hand to inspect it before I could re unite with my items. To clarify, possession, usage and import of illegal substances, including cannabis, is highly punishable by law in Japan (even in very small amounts) and should not be taken lightly.
With that being said you can imagine the look on my face when the officer tapped my shoulder to show me the joint he found hidden in my tobacco bag. WTF?
I left the airport about an hour late but luckily my driver was waiting patiently at the arrival exit and I could see my name on the sign as soon as I came out. I felt sorry for him having to wait so long, but not sorry enough to tell him the truth why I was late. "Customs" was all I said and we both laughed, one a little bit more hesitant then the other. I needed a few more minutes to see the humour in the situation and was just happy to have convinced both officers and their supervisor that this was just a bad joke by a friend. To this day I can't answer why they'd let me go without even a fine or note in my passport. Japan, and traveling in general, is all about respect and energy and so I would like to believe that karma was on my side this time. What ever the reason might have been, all I cared about now was to check in to my hotel and fall to bed. The hangover was about to catch up and tomorrow would be a busy day.
Having finished both my assignment and deadline the following day I decided it wouldn't make much sense to go to bed. It was almost 2 a.m. and it was my first time in Tokyo, there was way to much to see and take photos of. Screw bed time, it's adventure time!
Tsukiji Market is the biggest of a dozen wholesale markets for seafood and vegetables in japans main capital and with a daily distribution of over two thousand tons marine products it is the biggest fish market in the world. Back in 2013 it was still located in central Tokyo at the Sumida River (Tsukiji district) while it later got moved to the Toyosu area in 2016 in preparation for the 2020 Tokyo Summer Olympics. Well, 2021 I guess thanks to the ongoing CoVid-19 pandemic. The market was much familiar with being re-located having to leave it's first location in 1935 after the great Kanto earthquake. Additionally the number of both domestic and international visitors had increased so much over the years that it became a problem to the course of business as the markets infrastructure was not meant to serve as a tourist attraction.
The market started around 3:00 a.m. with the arrival of products from all over the world and is running every day except for Sundays and holidays. The most common times for visitors used to be the early well-known tuna auctions, starting around 5:30 a.m., but because of the increase of visitors and the associated problems they caused the market had banned all tourists from the tuna auctions several times in the past. However, that wouldn't keep me from trying to make my way in, playing hide and seek with the markets security team. Unfortunately it's only funny a couple of times until the security team decides to put you in arrest for an hour or two haha. The security guys were friendly however and did let me grab a bite of fresh sushi for the go before escorting me to their tiny office located just outside the tuna auction. I did spend a total of ninety minutes in there before the guys felt ready for another round of hide and seek. They knew I was trying to get good shots and I knew they were trying to do their job. It was great fun.
To avoid problems and accidents between visitors and average day business the market is quite limited and had several areas which did not open to public at all and so it was not aloud to enter the interior wholesale market before 9 a.m. once everything had quiet down significantly compared to peak time. Guests were often directed to the more open areas at the outside market where the big amount of small transportation trucks driving around were easier to spot. Stay calm and get lost and the market would quickly show you the flow. It was important to remember being at a working place and not on a sight seeing tour.
For everybody who was not interested to spent their time with looking at dead fish the entire time had an excellent chance to discover Japanese craftsmanship at the small shops offering everything from fishing gear to high quality kitchen tools, including some of the most beautiful knifes I have ever seen. Short side note, besides band saws, fresh tuna is also cut with the traditional long swords (some are over one meter long) called "Maguro Bōchō" which literally means Tuna Knife. It's part of the culture and you could see the hard work, art and detail centuries of experience have taught.
The few hours I had at the Tsukiji fish market were great fun with some cultural education but unfortunately not enough. I still had to remember the plane I had to catch back home and so it was time to slowly call it a day when the first shops started to close around 10:30 a.m. – 11:00 a.m.. I even almost forgot to pick up my suitcase from the little newspaper corner-shop outside the market where I left it earlier. I didn't want to go back all the way to the Hotel with the little time I had so I ask the older gentleman if I could drop it off in return for a little cash and some fresh sushi I promised to bring along when getting back. As so often, hands and feet were the language of coice since neither the older man spoke english or me Japanese but we figured it out.
Something I didn't forget this time, was to double check my bags before departure haha. Time to go home without any surprises at customs.