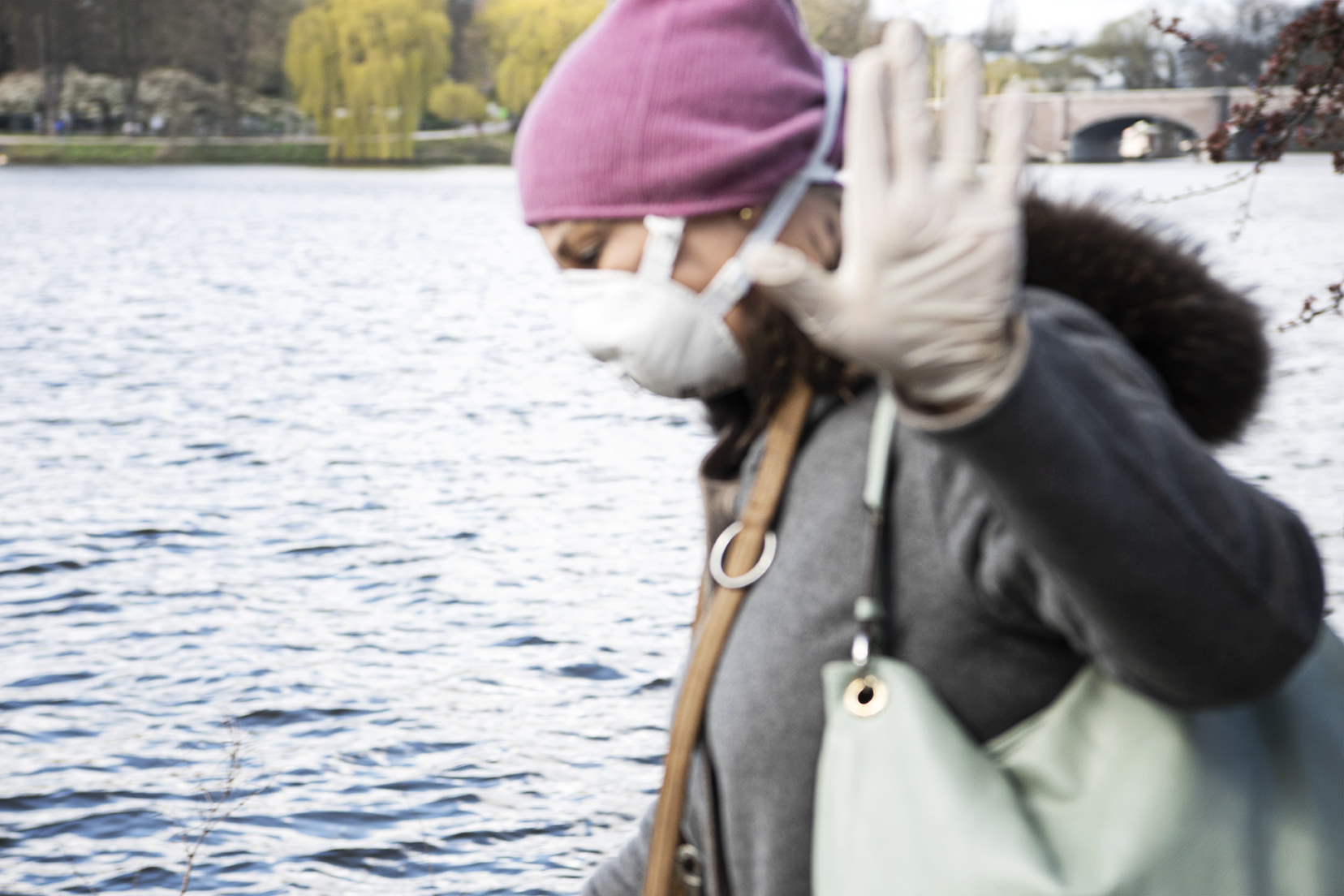 CoVid-19 Diary, Quarantine Life
It seems like this topic was inevitable. No matter how much you try, CoVid-19 (also known as the Coronavirus disease, an infectious disease caused by severe acute respiratory syndrome Coronavirus 2, SARS-CoV-2) is occupying everybody's life these days and nobody is safe. At least that's what we are being told by governments and media.
When I left Australia for an event production in Slovenia, and some additional vacation time in Europe at the beginning of the year, it was far from imaginable what the world would look like three months later, but yet here we are. People being told to stay at home and to practice social distancing. Borders are closed and air traffic is basically none existing and my industry is as good as dead. Globalisation, society and the worlds economy is put on halt and for many of us the future seems uncertain. How serious is this virus? When are we going back to normal (if there ever was such thing as normal) and what will the world look like after the pandemic? These are some of the questions the whole world is waiting for to get answers to while sitting pretty much tied up in quarantine, which in my case, is an apartment in Hamburg, Germany, that belongs to my ex girlfriend who I last saw eight years ago shortly before she broke up our relationship … via WhatsApp messages! How strange is that, right? Haha
I figured what could possibly go wrong? Either we would fight and quarantine wouldn't get boring at least, or the time together could help us grow as human beings. In both scenarios I was reconnecting with an ex girlfriend, checking the first box "learn something new" on my quarantine to do list.
And you thought this would be just another Coronavirus article on the internet. Guess what, it ain't. Haven't you learned anything from being alive right now? Nothing is normal and this article sure won't be no different. But lets take it step by step.
I was sitting on the bus making my way from Amsterdam to Paris at the beginning of March to shoot the biggest dance event in the world, called Just Debout. Traveling through Europe is so much different then traveling through other parts of the world. It's something you have to do by train or bus in my opinion, at least if it's shorter journeys like this and besides a short two week visit due to a shoot in London last year, I haven't been back to Europe for quite some time so I really enjoyed my time on the bus, being able to see some of the dutch and french country side. Being away from the dance scene for so long, where I once started my photography career, made it exciting to be back and so I looked forward to see new and familiar faces again since two of my friends were supposed to dj for some parts of the event.
The text message that would turn out to be the beginning of the end reached me about one hour outside of Paris. "Just Debout got canceled. Bruce (the organizer of the event) just announced it at the prelims just now. That's all I've heard. Guess we gonna get more info when everybody returns to the Hotel tonight". Even though the virus had been on the news for a while by then, it still didn't seem like it would turn into something that would actually effect me, but here it was, kicking in the front door to my life. It changed everything.
While the event was canceled, Bruce still decided to go ahead with the after show party plans since competing dancers, judges and media teams from all over the world already arrived. At least we could go out with a bang. Unfortunately the energy that night was accordingly to the recent happenings, but at least we tried.
Two days later, back in Berlin, things started to develop fast. Not only did the virus kick in the front door to my life, additionally it brought a big sleep over bag while mumbling "I live here now!". Within seventy two hours calls came from all ends of the world with clients canceling or postponing their upcoming productions and events. The productions and travels I was looking forward to disappeared before my eyes while my brain was trying to cope with the situation at the same time. Country by country a national isolation was taking place with borders closing everywhere, putting any what so ever travel plans in limbo. This was the stuff movies were made off. The question started to occur, where to next?
I was still on "holiday", living out of my suitcase, lucky enough to have a close friend hosting me for a few days since hotels started to close their doors. Our plan was to visit Copenhagen for an event but obviously that got canceled as well and Denmark closing its borders also meant I wouldn't be able to visit my parents in Sweden anymore. I was stuck and it wasn't any of those kind of "stucks" I've experienced before, this was different. Normally you'll be able to find or look around for options, but this wasn't like that. Free movement was getting limited drastically by the day with a very limited train schedule and both national and international bus travels on hold. I had to make decisions with a very limited table of options in front of me and I had to figure out where to stay more regular with the pandemic now being very much a reality in all our life's for who knows how long.
On a side note, one of my best friends gave birth to a healthy baby boy during this time. I am deeply happy for her new little family! Life is crazy in the craziest of moments and the little ones in between. I might have already opened one or two wine bottles in celebration during quarantine by the time I am writing this haha. Box number two, relax a bit more, check and done!
Hamburg is a one of a kind city in the north of Germany, about three hundred kilometers from Berlin, and was my first stop when leaving Sweden back in 2006. There are a lot of memories here. I once stood at the central station in this city, waiting for my train back to Sweden because I ran out of money with not a single dime in my wallet, just to find myself staying at a four star hotel and driving a Porsche the very next day, but that's a different story for a different day. The reasons why I chose to stay here instead of Berlin are simple. With the whole world going in to lock down I had to choose a city that checked most of the boxes and Hamburg did. It's a "media' city with a lot of agencies and productions taking place, so if business would kick back in, Hamburg would be a good place to be. It also does have a big international airport in case any assignments elsewhere would show up and/or air traffic would return to normal. Additionally it's very close to Scandinavia which makes it easy to reach Sweden or Norway from here to see my parents if the option would occur again. Last but not least, as a photographer, Hamburg has a fantastic display of different lights during the day and evening due to the big international harbour and its flare which extends over the rest of the city. It's unique, close to the ocean and a dream for anybody who loves photography and can appreciate good light. Berlin can't hang with Hamburg when it comes to light and combining all these things important to my lifestyle which put the final nail in the coffin of decisions I had to make.
Being in quarantine wasn't to bad. Traveling the majority of my life, I am used to spending a lot time alone and get work done from where ever I am at. It's part of the lifestyle. Still, not being able to have any travel options at all started getting to me though. Just the thought of being able to go anywhere at any given moments something I value a lot in my life, it makes me feel free and independent. Maybe I should get a horse, but then again, I'm kind of afraid of horses so maybe I should skip the wild free cowboy idea and try to make the best out of the current situation instead. If it wasn't for my fear of horses, I would have made an epic cowboy, I'm sure. Pew pew! By the way, did anybody notice finger guns are getting trendy again cause you can't shake hands or high five people anymore? I love it, pew pew again! Anyhow, lets get back to the story.
Neither am I a cowboy, nor am I a scientist so one of the first things I started to do during quarantine was to read up on CoVid-19 and with enough time on my hands it didn't take long to filter the bullsh*t information from what was actually worth paying attention to, a common problem in our society and media long before the pandemic. Instead of researching who said what, why did that person say it and what gives that person the credibility to say what ever that person just said, the majority of people just eats what ever food is put in front of them and who can blame them? Being busy with work, paying bills, running errants all day and perhaps picking up the kids from school and all the other problems people have to deal with, it is clearly more comforting to order in then to cook yourself after a long busy day. It is hard to truly stay informed now a days, it's very frustrating and it applies for everybody. From democrat, to republican, from scientist to conspiracy theorist, from American to Asian, from straight to homosexual, what ever example you prefer, you name it. When was the last time you really researched an article or interview you've red or seen on tv/internet to the bone? I thought so! It sucks and it's hard work but both your mind and body have to eat healthy. Which reminds me, I should do more sports during quarantine but that box had to remain unchecked for now.
Anyhow, did I come to the conclusion the Coronavirus was very much a reality? Yes, I did. Do I agree with certain measurements governments have been taken? No, I don't. However, I decided to play for team human (since everybody wants to be on teams nowadays) and so I tried to lead by good example and stay in as much as possible, no matter if I liked it or not. This didn't seem to be just about me so it was time to put my personal comfort aside, at least for now. Grocery shopping and occasional photo walks to document isolation became the rare exceptions to leave the apartment. Instead hundreds of rounds of Mario Kart have been played on my Nintendo Switch ever since.
In Germany we have been in quarantine for about a month by now. Measures to slow down the spread of the virus have been in effect since mid March and for the first time we have small shops and businesses opening again. Isn't it fascinating how our economy has, and still is, suffering and almost collapsing, from us buying things that are essential for our survival only?
Maya Angelou, an American poet, singer, memoirist and civil rights activist who died in 2014 at the age of eighty six, said it best, "Do the best you can until you know better. Then when you know better, do better." and I couldn't agree more, specially in a situation like this which was new to all of us, including people we like to believe should know better. Unfortunately we to often forget, everybody is living today for the very first time, no exceptions. It is ok to make mistakes as long as we learn from them and that does include our governments. The fact alone, me saying this about governments, which I normally strongly dislike, is mind blowing even to me. Maybe quarantine is seriously getting to me? Fu** it, if I go out, I go out with positive vibes and thoughts. Let's go team human! I wish I would have been so considerable with my ex girlfriend when she broke up with me but I guess it's hard to keep a clear mind when put outside your comfort zone against your own will. Sounds familiar? Instead it took eight years and a pandemic for us to come together to learn and grow as human beings. Isn't life crazy in the craziest of moments and the little ones in between? With all the limited options I had, I kind of got forced in to this situation when she offered to open her doors for me to help but sometimes thats how life is. Sometimes you need to get forced in to certain situations do develop as a human being or in any kind of craft. Just as CoVid-19 forced me to confront myself with my past, it also confronted me with certain projects I always wanted to take on with my photography. One of them you are looking at right now, the blog. I've always been writing on a book about my life and travels but never published it until now, split up in different stories.
The last four weeks, and the days leading up to quarantine, have been everything from frustrating and depressing, to fun and exciting, to awkward, to motivating and all kinds of different emotions. I can only assume it has been like this for many of us, much worse for some then for others, but in the end, and I know this sounds very cliché, we can only control what we make out of the situation and our emotions. For me, I chose to check the last box on my quarantine to do list, to develop and to stay positive rather then to believe in the apocalypse. One thing that hasn't changed though, that I'll always keep an eye open for what's going on around me. Nothing lasts forever.
Hang in there team humans!